---
The My Athens presents: Projections - "Uniting Athens' multifaceted fashion scene through film," fashion show gathered stylists, models and fashionistas at Stan Mulllins' art studio, in Athens, Georgia, on Sunday, Nov. 8, 2015. Fashions from Dynamite, Encore, Agora, Flirt Fashions, Community, Red Dress Boutique, Cheeky Peach and Atomic were modeled during the event.
This photo gallery of the My Athens Fashion Show gives a behind-the-scenes view of putting together a fashion show, as well as document the fashion show itself, showing the models and their ensembles designed by local designers and clothes provided by local shops in Athens, Ga., organized by My Athens' Rachel Barnes. Photo Gallery for The Red & Black.
---
Powered by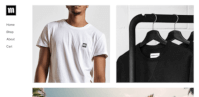 Create your own unique website with customizable templates.