---
Continuing a Legacy

---
David Randall Bryant - A Third Generation Bluesman
---
Continuing a legacy, David Randall Bryant — a third generation bluesman, of Oxford, Ga., following his grandfather Curley James Weaver and mother Cora Mae Bryant — this 5-minute documentary slideshow delves into the life of his grandfather and mother, their passing, and David Randall Bryant continuing their passion for playing the blues. Also documenting David Randall Bryant's family, and his mother Cora's "Museum" of blues, David Randall's home in Oxford, and his future as a blues musician in Georgia. The documentary ends with a video recording of David Randall Bryant performing a cover of "Ticket Agent," by Curley James Weaver, inside his home — and former home of Cora Mae Bryant. Original video and story for the Covington News (covnews.com) in Covington, Ga.
---
David Randall Bryant - 3rd Generation Bluesman

Portrait of David as he played his guitar, in his Oxford, Ga., home — which used to be Cora Mae's residence before she passed.



Cora Mae Bryant, a blues legend, and David's deceased mother, on the cover of "Blue Ink," magazine — Next to an old photo of Curley James Weaver, a blues legend, and David's grandfather — and the first generation of blues musicians to start the legacy in the family.
---
Powered by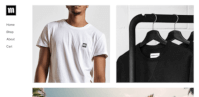 Create your own unique website with customizable templates.